#Multiverse IRC event will be back next year
A few weeks ago I wrote an article about the 4 day IRC event called #Multiverse. The event was to bring the IRC roleplaying community together and to grow it.
The community you see on DarkMyst is the best collaboration and community of players that many have ever seen amongst IRC role-playing community.

It's an amazing group of talented and friendly people. Bringing folks together and creating the effort that you see was risky and an incredible challenge to do but it has worked out quite well and has been part of a massive and on-going plan to bring renewed interest and growth to the community.

Ryan, Network Coordinator, DarkMyst IRC Network
This article has moved, you can now find it here.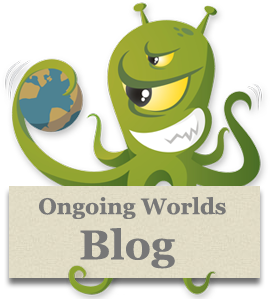 Play-by-post Games
OngoingWorlds
is a website where you can work together to create interesting stories, and roleplay as any interesting characters. Either join a game or create your own.

I've archived a lot of abandoned old games on OngoingWorlds, if I've archived yours by mistake just let me know & I can restore! 1 week ago
Looks like we've had website outages recently. Check back in a few minutes and it's usually ok 2 weeks ago
Looks like the website server is all okay again! 2 months ago