Facebook hates roleplayers
In a recent article I explained how you can use Facebook for roleplaying. You can create a new profile for your character and post to your own wall and other people's walls as your character, speaking as if you are the character updating their own Facebook account.
But roleplaying is something that Facebook doesn't like.
I just personally feel that Facebook doesn't like our Hobby shall we say. It is a means of escaping real life pressures but facebook won't allow us to do that.
Facebook might delete you
That's right, if you don't use Facebook the way they intend for you to use it, your account might be deleted. If that happens, there's no way to get it back. All you messages are deleted, all your wall posts deleted, all your friend connections, all your photos, all your Farmville scores are all deleted. I've seen it happen.
The rest of this article has moved. You can now read it here.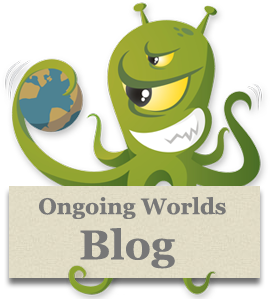 Play-by-post Games
OngoingWorlds
is a website where you can work together to create interesting stories, and roleplay as any interesting characters. Either join a game or create your own.