Author Archive
Hello there!
I hope everyone has had a grand Christmas  Personally have been introduced and discovered the wonders of Sodastreams. Equally, I hope New Year was great – my latest ambition is to move into a new four bedroom house come March, which will be nice and a MASSIVE improvement over where I am now, although the train journey may or may not be a welcome change. Sorry I've not been able to post recently, my excuse is that I may of had a digit severed and reattached recently – kinda makes typing a little on the difficult side! I certainly didn't do what most of the heroes I've written about would have done, namely shrug it off and continue on like nothing had happened. No, it was a case of wincing in pain and feeling a bit ill at the sight of my bone. Which brings me to my topic for this time.
What would you do?
This time, I'd like to discuss roleplaying in character.It is an important aspect to roleplaying, be it play-by-post, tabletop, or humble literature. Read more…
Hello, and welcome to another Roleplaying Focus.
Today, I'd like to talk about various genres people play in their games, and why they play that particular genre. For this I'm going to need a some of the OngoingWorlds players to join in!
Leon Archer, GM of Spellbound
Spellbound is a high fantasy game involving students at the mage academy of Aetherion.
I'll shamelessly start with my own game in OngoingWorlds, Spellbound. It's a game with magic, mages, ethereal creatures. castles, and dragons. I like to split fantasy into two sub-genres into itself, just because fantasy involves such a wide variety of themes. For me, there's high and low fantasy. High fantasy, such as Spellbound is all about being as far away from the norm as you can. It's allows players to be completely creative at time, which is why I love it so personally. The tricky part is generally to avoid clichés or becoming so powerful and nothing is ever going to threaten that character. Although, through experience I have certainly have developed ways of doing so, heh heh. For me, I've found that because of sheer scope of a high fantasy game, it allows players a much easier time in accessing a roleplay without having to worry so much about the constraints of the world their character is in, or fitting his character perfectly with the lore. It's a much more flexible genre. Read more…
This article has moved. You'll find it here.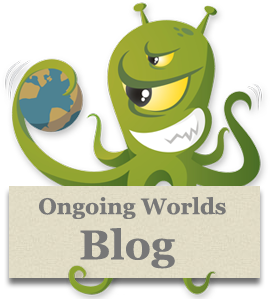 Play-by-post Games
OngoingWorlds
is a website where you can work together to create interesting stories, and roleplay as any interesting characters. Either join a game or create your own.