Posts Tagged 'MUSH'
Ever heard people talking about MUSHs or MUDs in the same breath as PBEM or PBP? They're actually quite similar, and I was able to interview Wes Platt, the creator of OtherSpace, an original space-opera MUSH. He's been running OtherSpace for 14 years and has a following of over 200 members. 
So what is a MUSH?
A MUSH – also known by the rather silly name "Multi-User Shared Hallucination" – is a text-based platform that players can go online to connect with from all over the world.

If you like reading and writing stories in real-time, improvisationally, with other people, it's the sort of thing you'd probably enjoy. It's a lot of fun if you get a kick of developing characters and crafting dialogue on the fly, reacting to situations, and following chains of action and consequence toward not-always-predictable territory. Read more…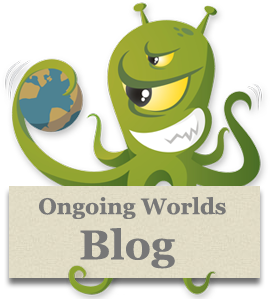 Play-by-post Games
OngoingWorlds
is a website where you can work together to create interesting stories, and roleplay as any interesting characters. Either join a game or create your own.