Posts Tagged 'Roleplaying focus'
Hello there!
I hope everyone has had a grand Christmas  Personally have been introduced and discovered the wonders of Sodastreams. Equally, I hope New Year was great – my latest ambition is to move into a new four bedroom house come March, which will be nice and a MASSIVE improvement over where I am now, although the train journey may or may not be a welcome change. Sorry I've not been able to post recently, my excuse is that I may of had a digit severed and reattached recently – kinda makes typing a little on the difficult side! I certainly didn't do what most of the heroes I've written about would have done, namely shrug it off and continue on like nothing had happened. No, it was a case of wincing in pain and feeling a bit ill at the sight of my bone. Which brings me to my topic for this time.
What would you do?
This time, I'd like to discuss roleplaying in character.It is an important aspect to roleplaying, be it play-by-post, tabletop, or humble literature. Read more…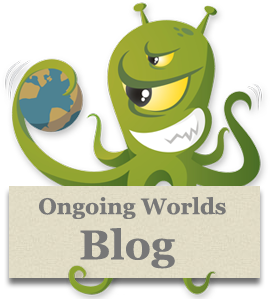 Play-by-post Games
OngoingWorlds
is a website where you can work together to create interesting stories, and roleplay as any interesting characters. Either join a game or create your own.